Right to the City
26/05/2017 @ 18:00

-

21:00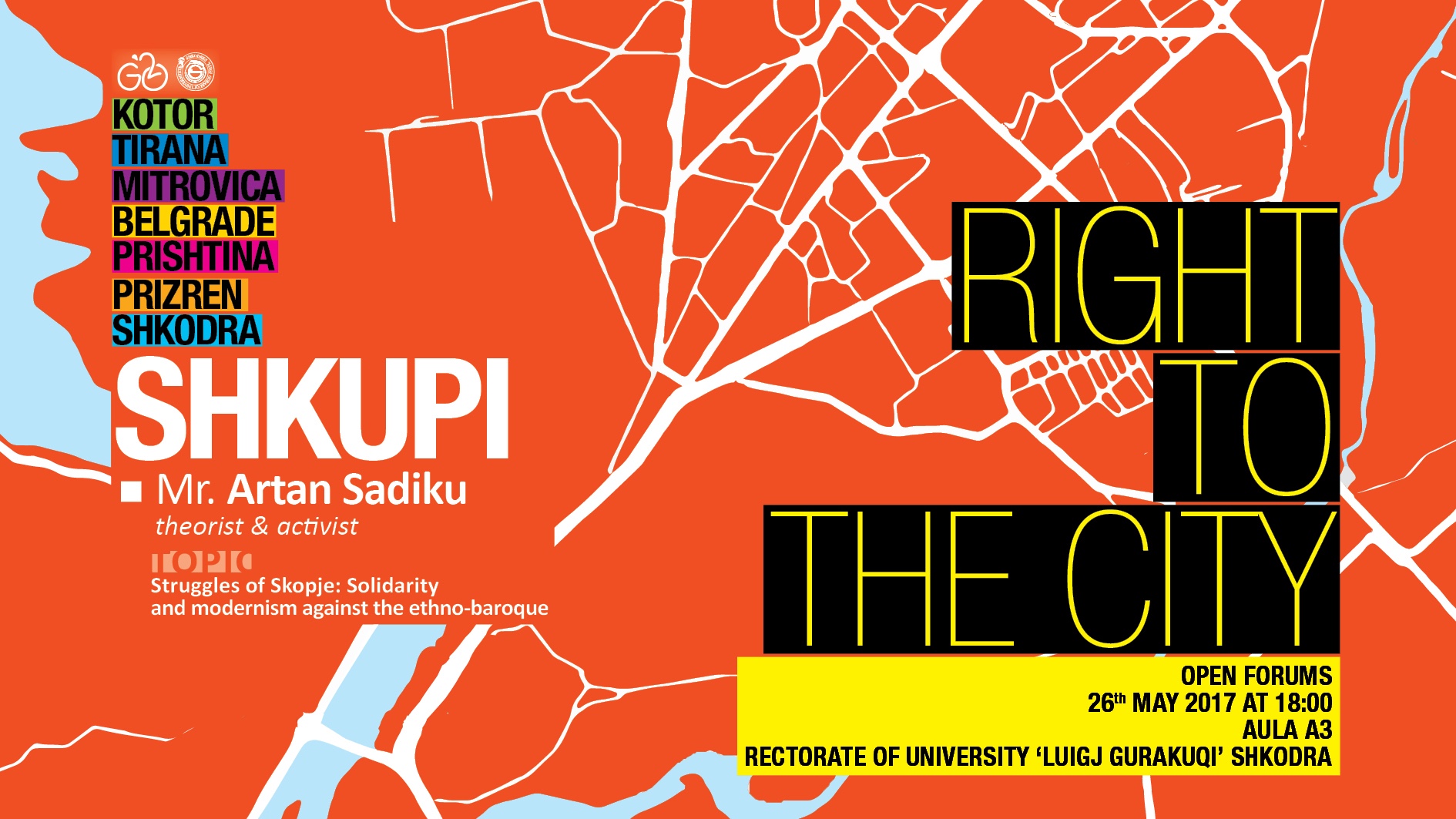 Right to the City
Shkodër -  Aula A3, Rectorate of University 'Luigj Gurakuqi'
 8th April - 27th May 2017, Every Saturday at 10:30 am
 A cycle of debates about the City and the Communities in Balkan Citi4s are getting held by guest speakers as urban planner, philosopher, sociologist, artist and activist from their respective cities: SHKODRA, MOSTAR BELGRADE TIRANA PRIZREN KOTOR SKOPJE PRISTINA
...
ARTAN SADIKU NË "E DREJTA MBI QYTETIN" 8: SHKUPI
Tema: Betejat e Shkupit: Solidariteti dhe modernizmi kundër etno-barokut
Të Premten, më 26 Maj 2017, ora 18:00
Në sallën A3 të Rektoratit të Universitetit "Luigj Gurakuqi" të Shkodrës
______________________
ARTAN SADIKU - RIGHT TO THE CITY 8: SKOPJE
Topic: Struggles of Skopje: Solidarity and modernism against the ethno-baroque
Friday, 26th May 2017 at 18:00
Aula A3
Rectorate of the University 'Luigj Gurakuqi' Shkoder
________________________
Artan Sadiku
Theorist and activist
Artan Sadiku is a theorist and activist from Skopje and holds a PhD in political philosophy. His primary interests are theories of the subject, feminism and radical practices in politics and arts. He works at the Institute of Social Sciences and Humanities in Skopje, where he lectures at the Social Philosophy Department and is actively involved with the Leftist movement Solidarnost and the Cultural Club Syndicate. His latest publications include "Provocation to a final resistance of truth: ethics of a heretical discourse" and "Contracting a radical democracy in the Balkans: The 'return of the people' as a possibility for feminist inauguration of politics.