Right to the City
06/05/2017 @ 10:30

-

17:00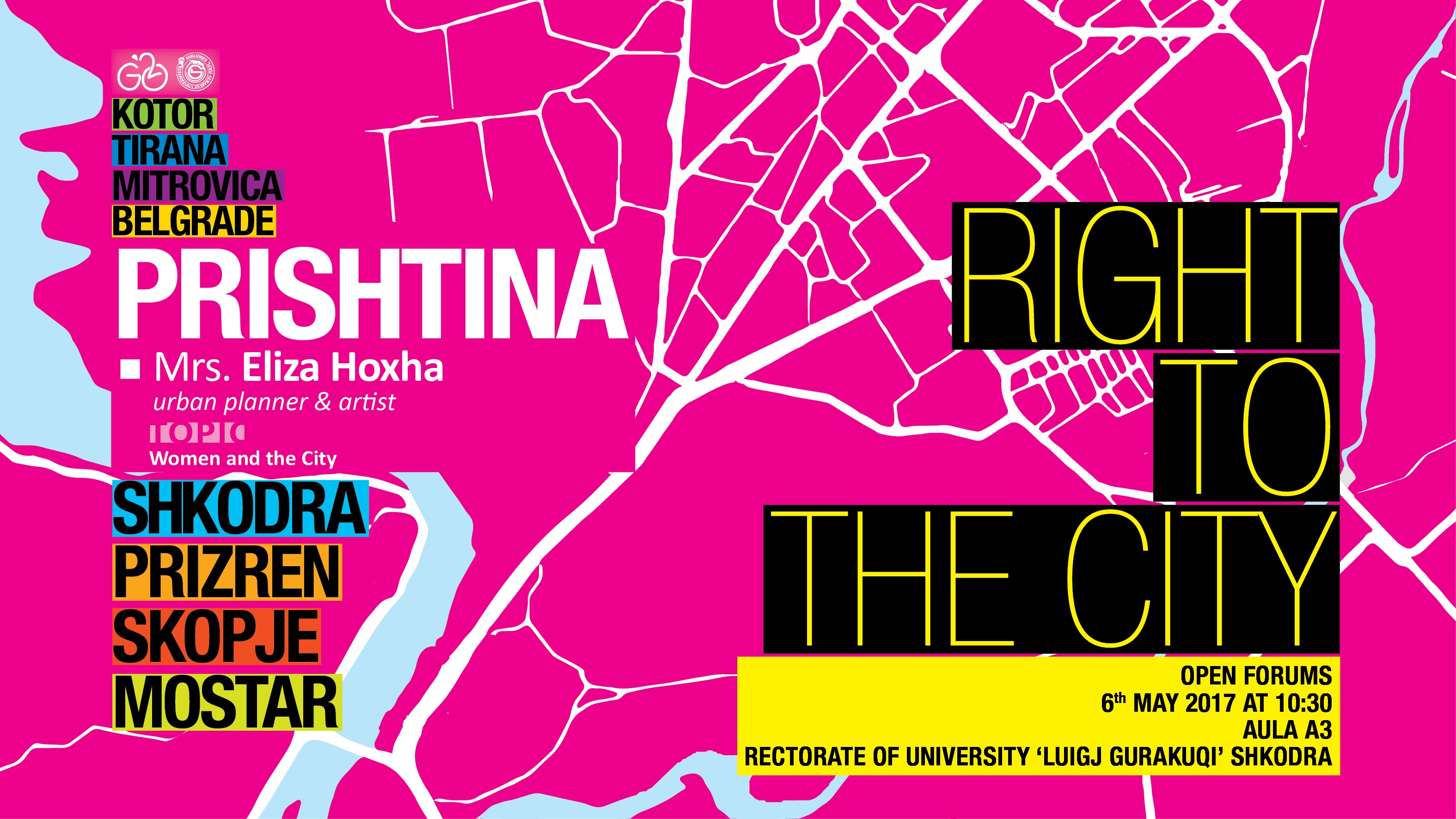 Right to the City
Shkodër -  Aula A3, Rectorate of University 'Luigj Gurakuqi'
 8th April - 27th May 2017, Every Saturday at 10:30 am
 A cycle of debates about the City and the Communities in Balkan Citi4s are getting held by guest speakers as urban planner, philosopher, sociologist, artist and activist from their respective cities: SHKODRA, MOSTAR BELGRADE TIRANA PRIZREN KOTOR SKOPJE PRISTINA
...
ELIZA HOXHA  NË "E DREJTA MBI QYTETIN" 5: PRISHTINA
Tema: Gratë dhe Qyteti
Të Shtunën, më 6 Maj 2017, ora 10:30
Në sallën A3 të Rektoratit të Universitetit "Luigj Gurakuqi" të Shkodrës
ELIZA HOXHA - RIGHT TO THE CITY 5: PRISTINA
Topic: Women and the City
Saturday, 6th May 2017 at 10:30am
Aula A3
Rectorate of the University 'Luigj Gurakuqi' Shkoder
Eliza Hoxha
planifikuese urbane & artiste
Arkitekte, planifikuese urbane dhe artiste e diplomuar në Prishtinë, Belgjikë dhe Austri. E angazhuar pranë universiteteve të Prishtinës dhe Tetovës. Autore e ditarit urban "Qyteti dhe dashuria". Fituese e disa çmimeve dhe pjesëmarrëse në dhjetëra ekspozita personale e kolektive të artit pamor në vende të ndryshme të botës. Interpretime të suksesshme në disa festivale muzikore. Anëtare e Parlamentit Kulturor Europian.