Exhibition Relations / Ekspozita Lidhjet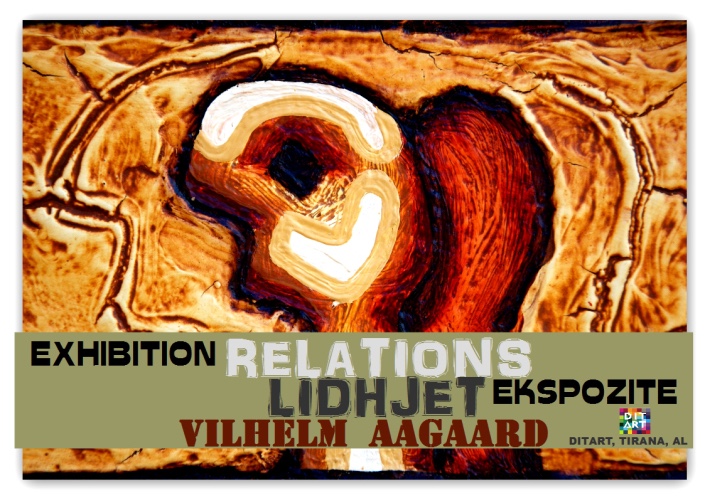 Exhibition Relations / Ekspozita Lidhjet
@ DITART Qendër Kulture Ndërkombëtare e Komunitare,
Rr. Mustafa Lleshi, Nr. 41, Tirana, Albania.
16 Tetor- 20 Nëntor, 2015 
...
Më poshtë në shqip!
Exhibition RELATIONS
Vilhelm Aagaard
http://vilhelmaagaard.dk/
Born 1959 – Copenhagen, Denmark
Vilhelm's motive in the world revolves around human relationships and the landscape that surrounds us and is within us, or as he states "It is the blind spot I try to identify through art". Creativity started as a bolt from the sky. The media images of the Kosovo war during the 90's marked an important call for the artist to express his perspective on our human relationships. Vilhelm works with selfinvented techniques, and his paintings have thick and bold brush strokes, thicker than you think.
Do not miss the opportunity to see original works during the exhibition at DITART. Oct. 16- Nov. 20, 2015. DITART International & Community Culture Center. Str. Mustafa Lleshi, Nr. 41,Tirana, Albania. 
Supported by www.EkphrasisStudio.com
...
Ekspozita LIDHJET
Vilhelm Aagaard
http://vilhelmaagaard.dk/
Lindur më 1959- Kopenhagen, Danimark http://vilhelmaagaard.dk/
Motivi i Vilhelmit ndaj botës rrotullohet rreth lidhjeve dhe marrëdhënieve ndërmjet njerëzve dhe peizazheve që na rrethojnë ose janë brenda nesh, ose sic thotë artisti "Është Pika e Verbër që unë përpiqem të identifikoj ndërmjet artit". Krijmtaria filloi si një vetëtimë nga qielli. Imazhet e medias gjatë luftes në Kosovë në vitet 90-të shënuan një thirrje të rëndësishme për artistin për të shprehur perspektivën e tij ndaj lidhjeve dhe marrëdhënieve njerëzore. Vilhem punon me teknika të shpikura vetë dhe pikturat e tij kanë penelata të trasha, më të trasha se çmund të mendoni.
Mbështetur nga www.EkphrasisStudio.com