100 vjet Bauhaus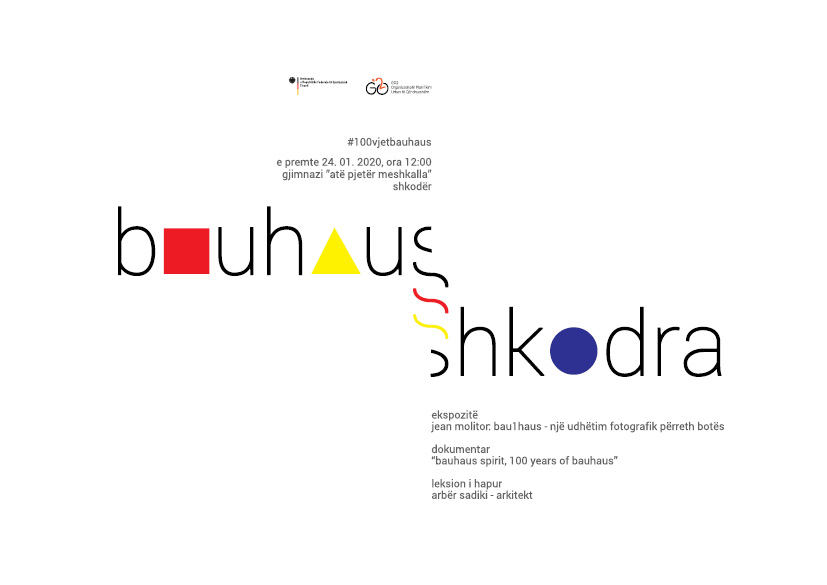 deutsch siehe nachstehend
english see below
---
BAUHAUS SHKODRA
∎Ekspozitë fotografike ▲Film dokumentar ●Leksion i hapur
Të Premten, më 24 Janar 2020, ora 12:00
Shkolla e Mesme Jopublike "Atë Pjetër Meshkalla"
Rruga e Jezuitëve
Shkodër
Hyrja e lirë!
Me rastin e 100-vjetorit të "Weimarer Bauhaus" Ambasada e Republikës Federale të GjermanisënëTiranë
në bashkëpunim me Organizatën për Planifikim të Qëndrueshëm Urban - GO2 organizojnë:
BAUHAUS SHKODRA
∎Ekspozitë e autorit Jean Molitor "Bau1haus - një udhëtim fotografik përreth botës"
Pamjet e fiksuara në Gjermani dhe në botë hedhin dritë mbi arkitekturën e periudhës moderne në aspekte nga më të ndryshmet. Që prej më shumë se dhjetë vite, Jean Molitor udhëton nëpër botë, i nxitur nga vizioni i krijimit të një arkivi mbarëbotëror me fotografi të ndërtimeve të periudhës moderne. Ekspozita i qaset komplekseve të ndryshme të gjithë gamës së ndërtimeve moderne.
▲ Dokumentar "Bauhaus spirit, 100 years of Bauhaus"
Ky film dokumentar (2018) ka në qendër të tij shkollën e artit dhe të arkitekturës Bauhaus themeluar në vitin 1919 në Weimar (Gjermani). Qëllimi i saj ishte që përmes projekteve arkitekturore të bëhej e mundur që njerëzit të bashkëjetonin më mirë me njëri-tjetrin, si dhe të kishin një pjesëmarrje më të madhe në të përditshmen e përbashkët. Filmi u kushtohet ndjekësve të parëtë Bauhaus, përreth themeluesit të saj Walter Gropius; ai hedh dritë mbi historinë dhe zhvillimin e shkollës dhe trajton çështjen e ndikimeve, që kjo shkollë vazhdon të ketë ende sot. Regjisorë: Niels Bolbrinker, Thomas Tielsch. Filmi do të shfaqet në origjinal me titra në shqip dhe anglisht.
Leksion i hapur nga Arbër Sadiki: Bauhaus100 - Reflektim analitik dhe përvoja personale
Arbër Sadiki është një arkitekt nga Prishtina, Kosovë, profesor në Fakultetin e Arkitekturës dhe Planifikimit Urban të UBT Prishtinë, Kosovë. Doktoruar në Universitetin e Beogradit, Sadiki ishte dy herë finalist i "Çmimi Aga Khan për Arkitekturë", Gjenevë. Ai është fitues i Erasmus+ në Shkollën Ndërkombëtare të Arkitekturës në Dessau, pranë Universitetit Anhalt të Shkencave të Aplikuara, Dessau, Gjermani.
#100vjetBauhaus
#100yearsBauhaus
#100JahreBauhaus
#Bauhaus100
Bauhaus ishte një shkollë idesh dhe një fushë për eksperimentimin në artet e lira dhe artet e aplikuara, dizajn, arkitekturë dhe metoda edukimi. Kjo shkollë arti u hap nga Walter Gropius nga 1919 deri më 1933 dhe kombinoi artizanatin me artet e bukura.
BAUHAUS SHKODRA
∎Fotoausstellung▲Dokumentarfilm●Offener Vortrag
---
Freitag, den 24. Januar 2020, um 12:00 Uhr
Gymnasium "Atë Pjetër Meshkalla"
Rruga e Jezuitëve
Shkodër
Freier Eintritt!
Zum hundertjährigen Jubiläum des Weimarer Bauhaus organisiert die Botschaft der Bundesrepublik Deutschland in Tirana gemeinsam mit der Organisation "GO2 für nachhaltige Stadtplanung" die Veranstaltung:
BAUHAUS SHKODRA
∎Architekturfotos von Jean Molitor: "bau1haus – eine fotografische Reise um die Welt"
Die in Deutschland und der Welt gemachten Aufnahmen beleuchten die Architektur der Moderne in unterschiedlichsten Facetten. Seit nunmehr zehn Jahren bereist Jean Molitor die Welt, von der Vision angespornt, ein weltweites Fotoarchiv von Bauten der Moderne anzulegen. Die Ausstellung nähert sich in verschiedenen Komplexen der ganzen Bandbreite modernen Bauens.
▲Dokumentarfilm: "Vom Bauen der Zukunft - 100 Jahre Bauhaus"
Der Dokumentarfilm (2018) beschäftigt sich mit der 1919 in Weimar (Deutschland) gegründeten Kunst- und Architekturschule Bauhaus. Deren Ziel war es, durch ihre Architekturentwürfe zu ermöglichen, dass Menschen besser zusammenleben und am gemeinsamen Alltag teilhaben können. Der Film widmet sich den ersten Bauhaus-Anhängern um den Gründer Walter Gropius, beleuchtet die Geschichte und Entwicklung der Bauhaus-Schule und geht der Frage nach, welche Einflüsse die Schule heute noch hat. Regisseure: Niels Bolbrinker, Thomas Tielsch. Der Film wird in Originalversion mit albanischen und englischen Untertiteln gezeigt.
Offener Vortrag von Arbër Sadiki: Bauhaus100 - Analytische Reflexion und persönliche Erfahrung
Arbër Sadiki ist ein Architekt aus Pristina, Kosovo, Professor an der Fakultät für Architektur und Stadtplanung der UBT Pristina, Kosovo, und an der Fakultät für Architektur der Universität Belgrad, Serbien. Sadiki promovierte an der Universität Belgrad und war zweimal Finalist des "Aga Khan Award for Architecture" in Genf. Er ist ein Erasmus+ Alumni an der International School of Architecture in Dessau.
#100vjetBauhaus
#100yearsBauhaus
#100JahreBauhaus
#Bauhaus100
Das Bauhaus war eine lebendige Ideenschule und ein Experimentierfeld auf den Gebieten der freien und angewandten Kunst, der Gestaltung, der Architektur und der Pädagogik. Diese Kunstschule wurde von Walter Gropius 1919 gegründet, bestand bis 1933 und verband Handwerkskunst mit bildender Kunst.
BAUHAUS SHKODRA
∎Exhibition▲Documentary film●Open lecture
---
Friday, 24thJanuary 2020, 12:00h
High School "Atë Pjetër Meshkalla"
Rruga e Jezuitëve
Shkodër
Free admission!
On the occasion of the centenary of the Weimar Bauhaus, the Embassy of the Federal Republic of Germany in Tirana, in cooperation with the GO2_Sustainable Urban Planning Organization presents:
BAUHAUS SHKODRA
∎Architecture photographs by Jean Molitor: bau1haus – Photographic Journey around the World
The photographs taken in Germany and around the world are showing modern architecture in all its various facets. Jean Molitor has been traveling the world for ten years now, inspired by the vision of creating a worldwide photo archive of modernist buildings. The exhibition approaches the whole range of modern construction in various complexes.
▲ Dokumentary film "Bauhaus spirit, 100 years of Bauhaus"
The documentary film (2018) tells the story of the art and architecture school Bauhaus, founded in 1919 in Weimar (Germany). Its goal was to improve living conditions and community coexistence through architectural designs. The film is dedicated to the first Bauhaus followers around its founder Walter Gropius, it highlights the history and development of the Bauhaus School and explores the question of what influences the school still has today. Directors: Niels Bolbrinker, Thomas Tielsch. The film will be screened in original version with Albanian and English subtitles.
Open lecture by Arbër Sadiki: Bauhaus100 - an analytic reflection and personal experiences
Arbër Sadiki is an Kosovan architect based in Prishtina. He is a lecturer at Faculty of Architecture and Urban Planning, UBT, Prishtina. Sadiki received his PhD at the University of Belgrade and was a finalist of "Aga Khan Award for Architecture" in Geneva for two years. He won an Erasmus+ exchange program in Dessau International Architecture Graduate School, near Anhalt University of Applied Sciences, Dessau, Gjermani.
#100vjetBauhaus
#100yearsBauhaus
#100JahreBauhaus
#Bauhaus100
Bauhaus was a lively school of ideas and a field for experimenting in the free and applied arts, design, architecture and educational methods. It was a German art school operational from 1919 to 1933 that combined crafts and the fine arts.