Story Night at Tulla
Event Navigation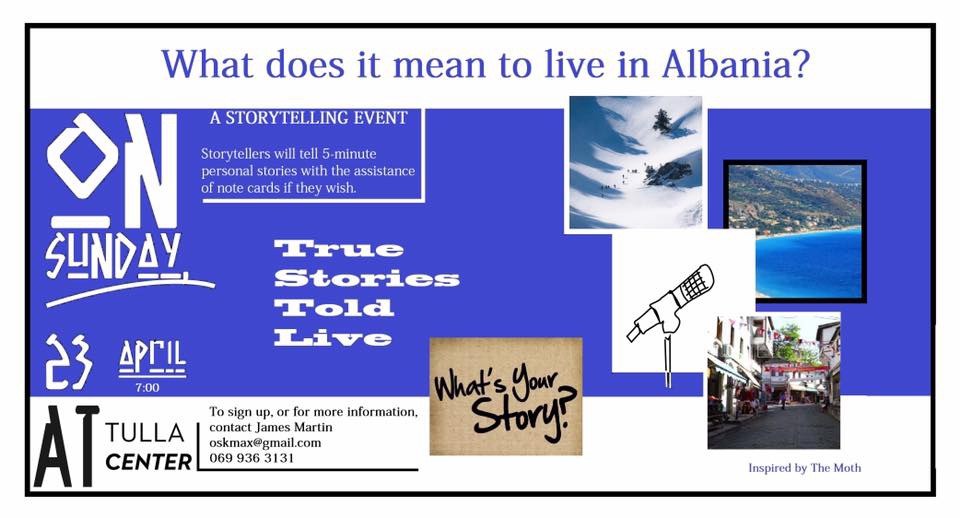 Story Night at Tulla
Tiranë @ Tulla Culture Center
April 23, 19.00 – 22.00
Everyone has a story.
During the evening, people will tell 5-minute personal stories. The stories should say something to illustrate the storyteller's feelings about Albania, or the person's impressions of the Albanian people, or simply an experience that they have had in Albania. Tell us about a trip to the mountains, or to the sea. Tell us about your daily routine, about the people you meet every day. Guests to the country and native Albanians are welcome.
All stories will be told in English. Storytellers will use note cards if they wish.
Please send a message to the address below if you are interested. Future messages will contain more details explaining how the speakers will be selected. If ten people want to tell stories, everyone will be welcome. If 50 people want to tell stories, we'll figure something out.
This event is inspired by The Moth Radio Hour and Podcast. Unlike a Moth Story Slam, there will not be any competition. Simply come and tell your story.