Fractured Body
Event Navigation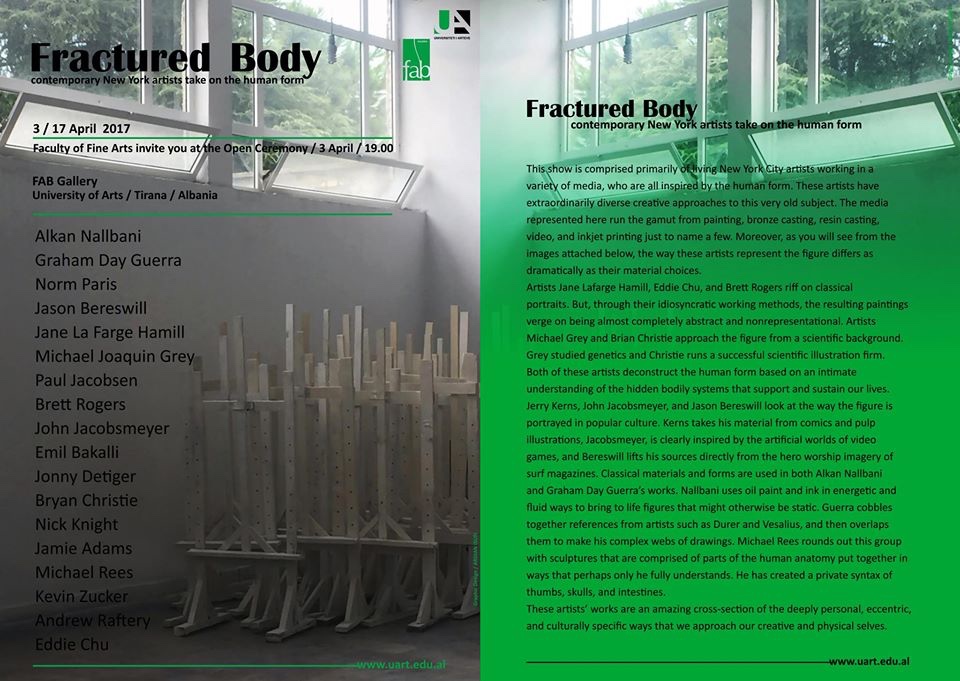 Fractured Body
Ekspozitë
Tiranë – Galeria FAB
3 – 17 prill, ora 19:00
Univeristeti i Arteve prezanton ekspozitën "Fractured Body", në të cilën marrin pjesë artistë shqiptarë dhe të huaj.
Fractured Body / contemporary New York artists take on the human form
Alkan Nallbani / Graham Day Guerra / Norm Paris / Jason Bereswill / Jane La Farge Hamill / Michael Joaquin Grey / Paul Jacobsen / Brett Rogers / John Jacobsmeyer / Emil Bakalli / Jonny Detiger / Bryan Christie / Nick Knight / Jamie Adams / Michael Rees / Kevin Zucker / Andrew Raftery / Eddie Chu
This show is comprised primarily of living New York City artists working in a variety of media, who are all inspired by the human form. These artists have extraordinarily diverse creative approaches to this very old subject. The media represented here run the gamut from painting, bronze casting, resin casting, video, and inkjet printing just to name a few. Moreover, as you will see from the images attached below, the way these artists represent the figure differs as dramatically as their material choices.
Artists Jane Lafarge Hamill, Eddie Chu, and Brett Rogers riff on classical portraits. But, through their idiosyncratic working methods, the resulting paintings verge on being almost completely abstract and nonrepresentational. Artists Michael Grey and Brian Christie approach the figure from a scientific background. Grey studied genetics and Christie runs a successful scientific illustration firm. Both of these artists deconstruct the human form based on an intimate understanding of the hidden bodily systems that support and sustain our lives. Jerry Kerns, John Jacobsmeyer, and Jason Bereswill look at the way the figure is portrayed in popular culture. Kerns takes his material from comics and pulp illustrations, Jacobsmeyer, is clearly inspired by the artificial worlds of video games, and Bereswill lifts his sources directly from the hero worship imagery of surf magazines. Classical materials and forms are used in both Alkan Nallbani and Graham Day Guerra's works. Nalbani uses oil paint and ink in energetic and fluid ways to bring to life figures that might otherwise be static. Guerra cobbles together references from artists such as Durer and Vesalius, and then overlaps them to make his complex webs of drawings. Michael Rees rounds out this group with sculptures that are comprised of parts of the human anatomy put together in ways that perhaps only he fully understands. He has created a private syntax of thumbs, skulls, and intestines.
These artists' works are an amazing cross-section of the deeply personal, eccentric, and culturally specific ways that we approach our creative and physical selves.